Marin County
Pey-Marin Vineyards
Where are the vineyards in Marin County? They are located in northern California and are bordered by the famous Napa & Sonoma wine districts to the north and the majestic Golden Gate Bridge to the south. Mostly on the far western side of the county, they are influenced by the frigid Pacific Ocean along Marin's rocky western coast and the foggy San Pablo Bay to the east. These powerful bodies of water frame our chilly weather patterns and contribute to one of California's coldest and most unique viticultural environments.
Marin's winters average temperatures are slightly are warmer than neighboring Napa and Sonoma because it is surrounded by these two large bodies of water and because of its heavy winter precipitation. Subsequently, bud break is (surprisingly) accelerated, but Marin's persistently cool weather spring and summer weather and complete lack of heat waves (especially on the coast), push flowering, "set" and harvest many weeks beyond neighboring areas and contribute to one of the longest natural "hang times" in the state.
Degree day summation data illustrates that west Marin vineyards are cooler than those in Santa Maria or Santa Rita Hills. This is likely a major contributing factor to the high quality grapes grown in Marin County. Because of this long growing season, Marin wines tend to display more balance, have superb natural acidity and many have lower alcohol levels than other wines produced nearby.
Marin has the potential be one of the finest and most diverse small wine regions on the west coast - especially for "cool-climate" varieties such as Pinot Noir and Riesling.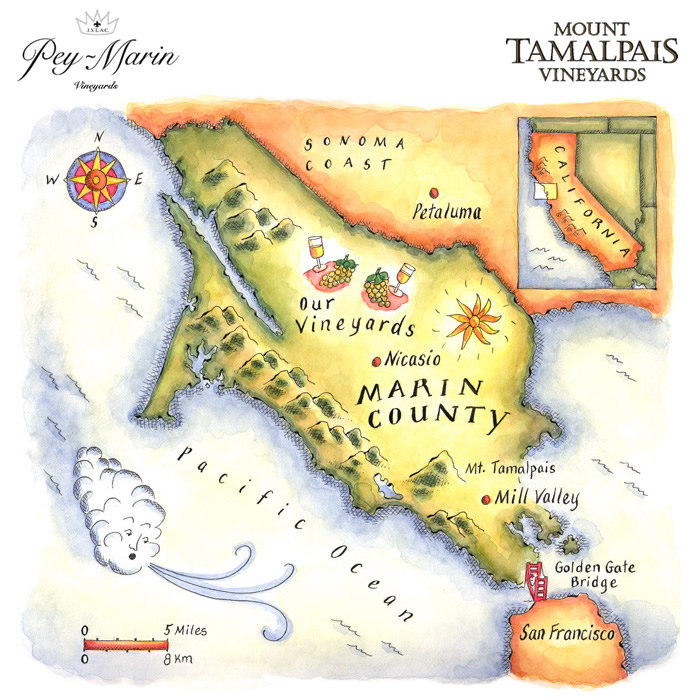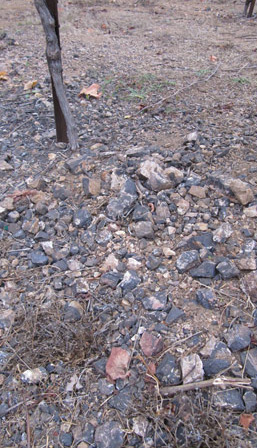 While Marin County vineyards spanned hundreds of acres in the 19th and 20th century, it currently has less than 200 acres under vine. After the great quake of 1906 (which devastated parts of Marin), Prohibition, WWII and phylloxera, vineyards in Marin were ripped out in favor of more lucrative urban development. Slowly, the wine industry moved just a few miles north to Napa & Sonoma.
The edge of the American continent north of San Francisco presents an extraordinary viticultural landscape. The topography of Marin County is largely rolling pastureland, with it's largest mountain, Mount Tamalpais, overlooking the majestic San Francisco Bay. Marin County straddles the renown San Andreas earthquake fault, which is slowly but relentlessly tearing the Tomales peninsula away from the California mainland.
Over millions of years, this explosive geologic force has turned the land into a collage of rolling hills, with steep terrain and a potpourri of soil types - many of which are suited for premium vineyards. Soils of volcanic, maritime and alluvial origin are plentiful, each borne by significant geological influences of earthquakes, erosion and even glaciers.
Dozens of soils have been identified, ranging from well-drained gravelly loams to moisture-retaining silty clays, all which vary in depth and fertility. Our vineyards soil profile is largely decomposed sandstone and Haire loam and is moderately fertile.
This unique combination of extremely cold climatic influence and epic geologic history yields an unparalleled environment for terroir-based winemaking.dapibus et orci.